How Can I Prevent Water Damage to my Home?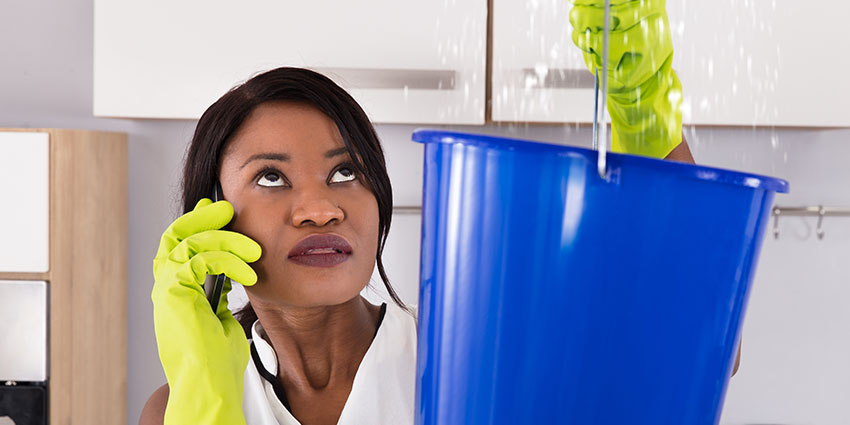 You may be surprised to learn that water is the most common cause of damage inside a home! Ways to prevent home water damage are easier than you think if you pay attention to maintenance details and act quickly when spotting even the tiniest leak. Remember, a pinhole leak today can erupt into a waterfall tomorrow!
Here are three helpful ways to prevent water damage in the home:
1. Become a water detective:
While leaks and broken pipes are the leading causes of home water damage, you should be aware of the reasons why they happen. The most common reason is basic wear and tear on the elements, and the other is stress on the plumbing because the water pressure is set too high.
There are water detection devices you can purchase that find leaks or failures in appliances that use water, such as washing machines, dishwashers, water heaters and even sump pumps. Simple battery-powered sensors are easy to install and come with an alarm feature that goes off when water is detected. Some higher-priced sensors are designed to automatically shut off the water supply when a leak is detected either on the appliance or at the main water line. A plumber and an electrician are required to properly install the more sophisticated models.
What's the easiest way to figure out whether or not you have a leak? Simply turn off the main water valve into your home and then check your outside water meter. If it is still moving, then water is flowing somewhere, which means it's time to put on your water detective hat.
Another way to detect a water leak is to pay attention to your water bills every month. If you see a significant increase in your bill, without any obvious explanation like guests or car washing, you may have at least one water leak.
2. Inspect your home:
There may not be a water source in the guest bedroom, but that doesn't mean water can't find its way into the room. Roof leaks can appear in any room and cause considerable water damage to ceilings and walls. Water damage can also appear around foundations and other places, like the basement or garage, where you might not always remember to inspect. Look for evidence of leaking water where there should be none.
3. Schedule appliance checks:
Most leaks begin as small cracks or tears in pipes or hoses. It only takes a small investment of your time to perform a yearly inspection of all water-using appliances. A regular maintenance routine could save you money if it prevents water damage. Don't forget to check behind the refrigerator if you use a water filter system or automatic ice cube maker.
Every homeowner's worst nightmare is going away on vacation and arriving home to a flood of water over carpets or hardwood floors. It's a good idea is to check with your home insurance agent to be sure that you have the required coverage in case you become the victim of home water damage.
---
This information is provided for your convenience and is not intended as insurance advice. The views, opinions, and advice expressed in this article do not represent those of Homesite Group Incorporated. Please consult your insurance carrier or agent for information regarding your policy or coverages.