Grill Safety 101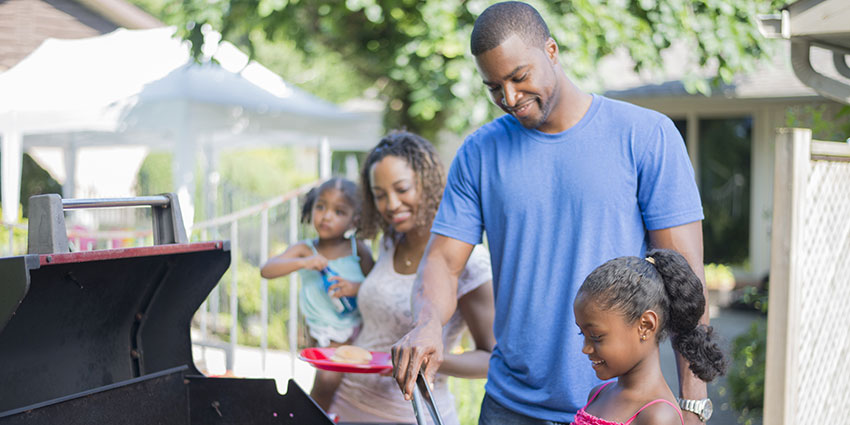 Summer has arrived and that means grilling season is here! There's nothing better than throwing some meat and vegetables on the grill and enjoying a barbeque with family and friends. With cookouts a summertime favorite, and 75% of American households owning a grill (LA Times, 2016), chances are you might be firing yours up in the backyard today.
Before you prep the food and fire up the grill, take a look at these important tips to ensure your culinary greatness and grilling safety.
Preparing the Grill
When setting up your grill, be sure to keep it a safe distance away, at least 10 feet, from other structures. Always have a fire extinguisher handy in case of emergency.
Be sure to inspect the drippings tray underneath the grill. You may want to replace the one you've used from last year. Always make sure it's clean before cooking – too much grease build up could lead to a fire.
If you're using a propane or gas grill, check the hoses to and from the fuel source. Examine them for any cracking, holes or leaks, and tighten connections to make sure they are connected properly.
Carefully read and review the manufacturer's instructions on the best way to refill the fuel source for your grill, regardless of whether it runs on charcoal, wood, or gas.
Grilling
Before you put any food on the grill surface, always preheat the grill to let it burn away possible lingering grease or food residue.
Most importantly, never leave a lighted grill unattended.
Post-Barbeque
After cooking, it's helpful to use a wire brush to rid the grill grates of cooking residue. Just be sure no wires or metal pieces are left behind – you wouldn't want them in your food the next time you grill.
If you're looking for a more organic way to clean, halve a red onion and rub along the grates. This will clean up any residue and also season the grill for the next cook!
When using a charcoal burner, wait until the coals are fully cooled before disposing of them into a non-combustible container.
For more information and tips on grill safety, visit the National Fire Protection Association.
From Homesite, happy grilling!
---
This information is provided for your convenience and is not intended as insurance advice. The views, opinions, and advice expressed in this article do not represent those of Homesite Group Incorporated. Please consult your insurance carrier or agent for information regarding your policy or coverages.